Key events
We will hear from Patrick Vieira again… but meanwhile Barney Ronay was at Selhurst Park and his report was in!
Pep talks to Sky. "From my experience since coming to the UK, every time we come to Selhurst Park it's always very difficult… at home we struggle more but we always come here and I think we play very well, and we play to score more goals but they always fight … they have weapons, some amazing strikers, they have a good relationship, they have incredible threats … so it was a matter of patience … push, push but don't lose your head … all the people in the middle and up the front were brilliant … not easy … last season we played amazingly here but we didn't win … we defended very well … Arsenal are on an incredible run … teams are falling but we're still there … now we've got the final on Tuesday [in the Champions League v Leipzig] and Saturday [in the FA Cup v Burnley] we have to do everything… we hope to have one of the best nights at the Etihad."
Matchwinner Erling Haaland, in a very cheerful mood, speaks to Sky. "In the end all that matters is the three points … it's not easy … you saw Bournemouth beat Liverpool today … every game is a fight … we're winning and I'm really happy … it's my job and I enjoy it … we have to keep going … I wasn't worried … I tried to focus on my game … it's not easy so I'm very proud … we have to win … we have to focus on ourselves … we still have a lot of games to play … nothing is decided yet … this is England, I'm watching this whole life, and it's good to be in the middle of it!"
Some more bad news for Palace. That effort by Eze in the 85th minute was not recorded as a goal. So that's three consecutive games without a goal now. Palace became the first Premier League side to reach that unusual and unwanted landmark since Opta started counting.
OUTCOME: Crystal Palace 0-1 Manchester City
City did not play well. This was not a classic. As if they would care about all that. Sometimes you have to win ugly and that's what City did tonight, moving within two points of Arsenal at the top of the table. They are delighted. Palace remain in 12th place, looking over their shoulders at the relegation battle they are heading towards.
90 min +4: Haaland dribbles from the left and Andersen pulls him over, who goes into the book. A free kick just to the left of the Palace penalty area, but it certainly won't get into the mix. Indeed, Haaland runs towards the corner flag.
90 min +3: Grealish is going nowhere on the left and is forced to play it back to Ederson… but with City under pressure, Ahamada makes a pointless back-heel, releasing the pressure and allowing the visitors to reduce some of the time.
90 min +2: The second is drawn from the perspective of the City.
90 min +1: The first of four additional minutes flies by from Palace's perspective.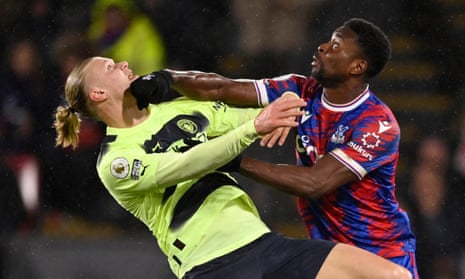 90 min: Zaha runs towards Walker. He gets all the way up the field before firing a tempting low cross through the danger zone. Somehow he flies behind Edouard and Eza and away from danger. How did that ball get through the crowded area without meeting a Palace player?!
88 min: Walker comes in for Stones.
86 min: … so that Palace avoid the humiliation of playing three Premier League games in a row without a single shot on goal. Little acorns, and all that.
BREAKING NEWS: Crystal Palace scores on goal
85 min: Eze's cautious curler is blocked and deflected to the right, and nothing comes from the corner. But still, it's something to build on, right?
84 min: Since scoring, Haaland has been sniffing around in the hope of scoring a quick second. He almost gets one here. De Bruyne crosses from the left, and the big striker heads harmlessly in from close range.
82 min: Zaha and Stones battle down the left palace. Zaha, known to get hot sometimes, grabs Stones by his outstretched leg (!) and throws him to the ground. Stones was pulling him back, to be fair, and as he threatens to start, he quickly calms down and the referee stops for a quick tackle.
81 min: By the way, it was Haaland's 29th goal in the Premier League this season. His 34th in all competitions. Thirty-four goals, and the best part of three months of the season is still to end!
80 min: Palace respond by replacing Ayew and Schlupp with Edouard and Eze.
79 min: Pep was preparing a substitution before the goal, but makes it anyway, sending De Bruyne on for Silva.
GOAL! Crystal Palace 0-1 Manchester City (Haaland 78 pen)
Haaland calmly rolls into the bottom left corner, sending Guaita the wrong way, and City finally make a breakthrough!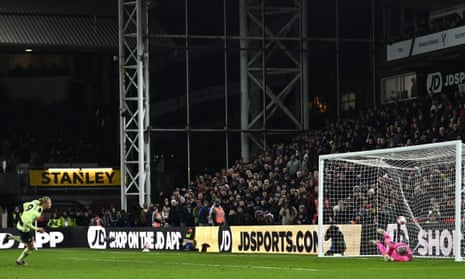 77 min: The usual pre-penalty faff. Haaland will take this.
76 min: Rodri shifts up a gear as he goes down the inside left channel. He tries a one-two with Gundogan, who crosses for a penalty. He won't get it. Just a corner. But from the corner, which Grealish cut to Gundogan, Olise clumsily enters and grabs the latter's boot. The referee points to the spot!
74 min: Olise drives down the right and the home crowd gets excited for the first time in a while. But his cross into the box for Ayew is not particularly accurate and City are soon back in possession. This will be a frustrating hour for both sides, albeit for slightly different reasons.
72 min: Silva dangerous cross from the left. Haaland is not ready for that. Had he been on the front foot, he would surely have met him with a header from six yards out and headed home. But it was a step too far.
71 min: Clyne makes room for Ward.
70 min: Stones does well down the right and crosses deep. Haaland, on the further stick, is too static. The ball flies harmlessly away from the hazard.
68 min: The corner of the city on the left. It's passed back to Alvarez, who has a shot from the edge of the box. Easy for Guaita. The champions are starting to show some signs of frustration.
66 min: Ahamada dribbles down the inside left channel and is clipped by Rodri, left of D. The referee waves a dubious advantage and the move eventually breaks down. Palace would rather have a free kick.
65 min: Ake is booked for a shot on Olise in flight.
64 min: The incredible statistics knocked out Sky. Palace had failed to score in their previous two games… and they failed to do so in this one either. The unwanted triptych o'tedium is very much in sight. Apparently no one has gone three games without a goal attempt before, since the records began. Can I avoid setting such a depressing record?
63 min: Ahamada tries to send Ayew into space down right. Good chance if he passes well. But he doesn't and Dias slides over to clean up.
61 min: Milivojević, who was in very real danger of being excluded, is replaced by Ahamad.
60 min: Grealish crosses from the right. Alvarez takes it and turns into the box in one easy movement. What skill! Then he looks for the upper right and, leaning back, hiccups over the bar. That would be a goal.
59 min: Rodri steps down the inside right channel and looks to shoot from distance down the right. The Palace counter is also blocked. Dias interferes with Zaha in the middle of the pitch and enters the box. He can't complain about that, and to his credit, he isn't.
58 min: That's the last thing Foden will do tonight. Makes room for Alvarez.
57 min: Foden curls hard down the left, through the pseudo-wall set up by City. However, Guaita reads it well and approaches and extends a strong hand. Good free kick with a save for the game!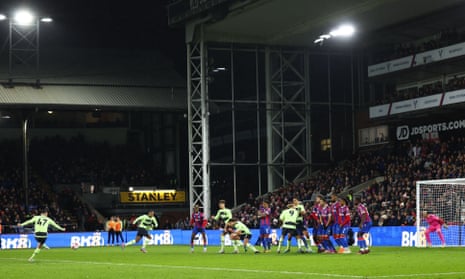 56 min: AND many of pre-free-kick faff.
55 min: Grealish was about to dribble into the Palace penalty area in the middle when Milivojević grabbed him from behind. Free kick, inches from the penalty spot, and he really needs to be in the salon for one last chance now that it's an early swim.
53 min: This half has not started yet.
51 min: Schlupp and Ayew combine well down the left wing. There's a chance to release Zaha through the middle… but he's gone too soon, and as Schlupp tries to keep the move alive by holding onto the ball as long as he can, Zaha can't get back and all is lost. Still, for a moment there was a possibility.
50 min: … now.
49 min: The city is in the foreground, mind you. Palace struggle to get a sniff. Ping, pass, ping, pass, ping. Then Ake steps up a bit and steps down the inside left channel, only for Clyne to turn him over. Free kick in a dangerous position, just outside the Palace penalty area. Foden curls it long … and almost out of play. Akanji saves the day by grabbing the line and deflecting it off the nearest defender for a corner. From which…
47 min: Quite a slow start to the second half.
Palace start the second half. No changes. "Foden is like a really expensive spice," Gene Salorio begins. "It can greatly contribute to the flavor of a dish, but it will never be its central element. Unlike, say, De Bruyne, who is the center of the plate. Grealish is a decoration: it adds visual appeal to a presentation but usually adds no substance. And screw the bosses at the BBC." You'll notice an interesting change in speed at the end.
Halftime entertainment. A reminder that top rugby is currently taking place…
… as well as some world-class political bullshit. Solidarity.
HALF TIME: Crystal Palace 0-0 Manchester City
The champions were the better side, but Palace are holding their own. It's a big 45 minutes in the race for the title.
45 min: Akanji unnecessarily throws out Zaha on the left flank. A chance for the hosts to fill City's box… which they do, but Olise's delivery isn't great. City clear their lines.
43 min: Haaland and Guehi clash in midfield. The first one sticks out his right hand and joins the other's shoulder. Home fans want Haaland's exclusion. The judge limited the sentence to a harsh word or two, which, to be fair, was more appropriate, as there didn't seem to be too many. There is a lot of noise now.
41 min: Milivojević knocks Silva to the ground, 35 yards on City's left. The captain of the palace wants to keep here, since he is already booked. He also got away with attacking Rodrigo earlier, just after giving him the ball on the half-hour mark and just before he received a yellow card. One more stupid challenge and he could walk.
39 min: Foden crossed deep on the right, forcing Andersen to head behind for another City corner, this time on the left. Foden takes. Palace half-cleared, only for Grealish to play an excellent first-time diagonal ball back to Foden, breaking into the box on the left. One touch and bang… that's what was supposed to happen. But he decides to move into the crowded central zone, and Palace can break free.
37 min: Foden, previously out of it, suddenly increases the quality of his result, charging gracefully from the right, overcoming three challenges and then winning the corner. Nothing comes of the set piece, but you can't keep a good man too long, huh.